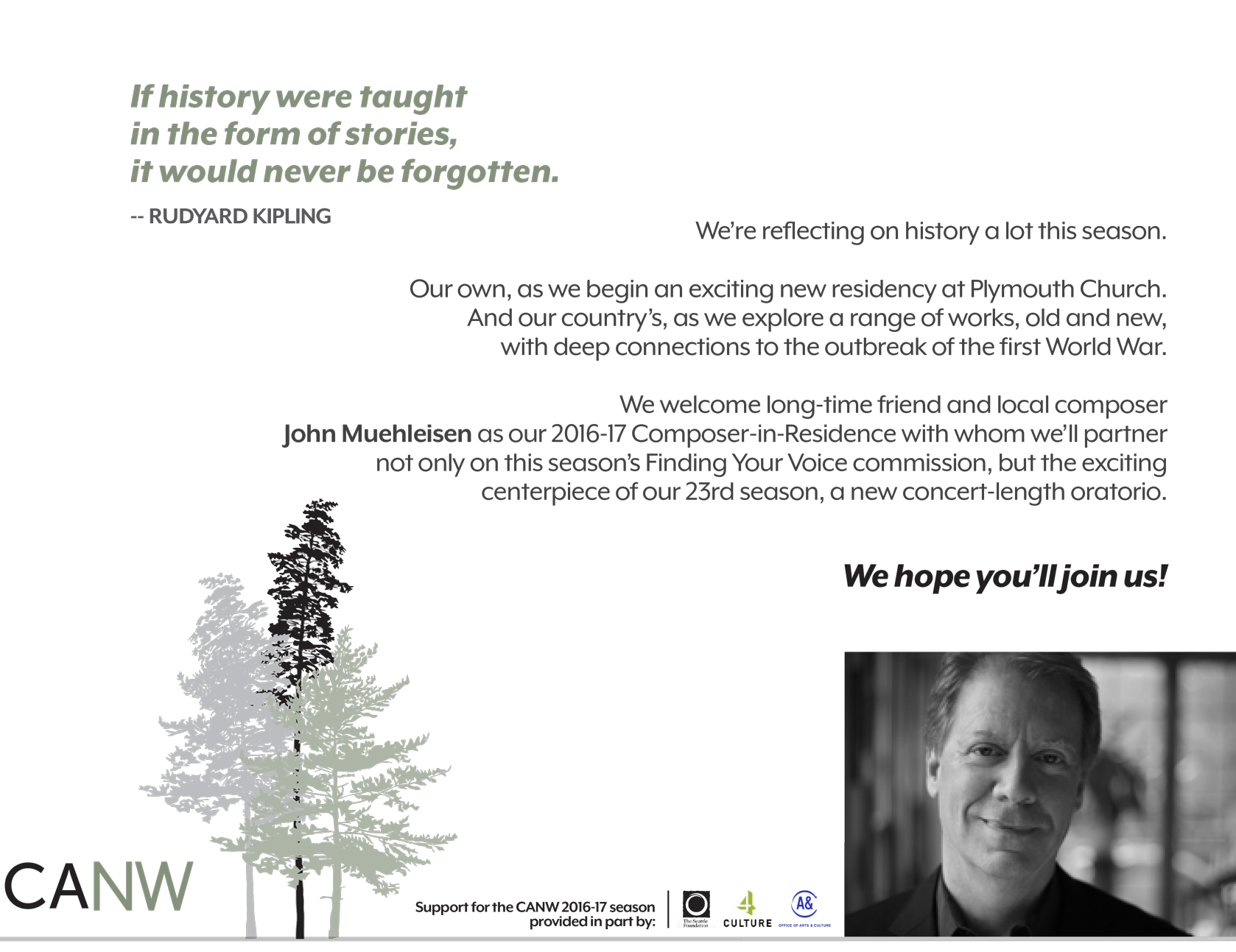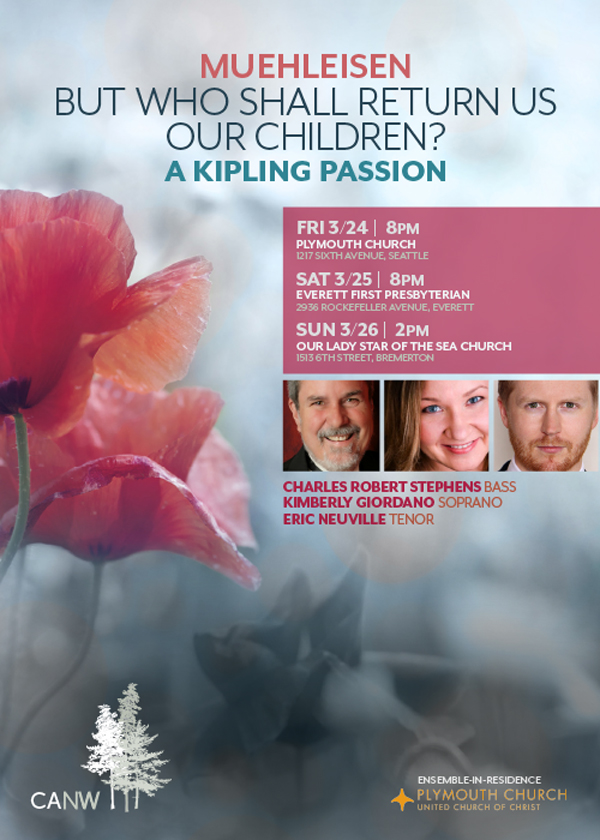 In 2017 more than three years of work will culminate in the premiere of a concert-length oratorio for choir with vocal soloists and chamber orchestra composed by CANW's 2016-17 Composer-in-Residence, John Muehleisen.
But Who Shall Return Us Our Children: A Kipling Passion commemorates the centennial of World War I by focusing on the historical account of Lieutenant John Kipling's 1918 death at the Battle of Loos, and its impact on his famous parents, Rudyard and Carrie Kipling, whose story represents that of countless families during World War I—and in all wars before or since. The narrative touches on a number of issues relevant to our own time, and places special focus on the challenges faced by warriors and their families.
Featuring nationally renowned soloists Charles Robert Stephens (bass) as Rudyard Kipling, Kim Giordano (soprano) as his wife Carrie, and Eric Neuville (tenor) as their son John, Muehleisen uses the passion form to explore how we might find healing in the face of unspeakable tragedy. In so doing, the work seeks to honor and bring voice to the often-silent suffering of not only our veterans, but also of their families.
Unclouded Day: An American Hymn-Book, CANW's 2016-17 season finale, is a celebration of American hymnody and new music featuring three world-premiere works!
21st century arrangements of familiar shaker tunes, hymns and spirituals by Kevin Siegfried, Steven Paulus, Will Averitt and Shawn Kirchner will be performed with premiere settings of Be Thou My Vision by John David Earnest; Amazing Grace by Seattle composer Rick Asher; and Veteran's Stories by CANW 2016-17 composer-in-residence John Muehleisen. Averitt's arrangements of shape-note tunes set for choir with his characteristic accompaniment of piano four-hands (featuring pianists Lee Thompson and Melissa Loehnig Simons) are also sure to be a particular highlight!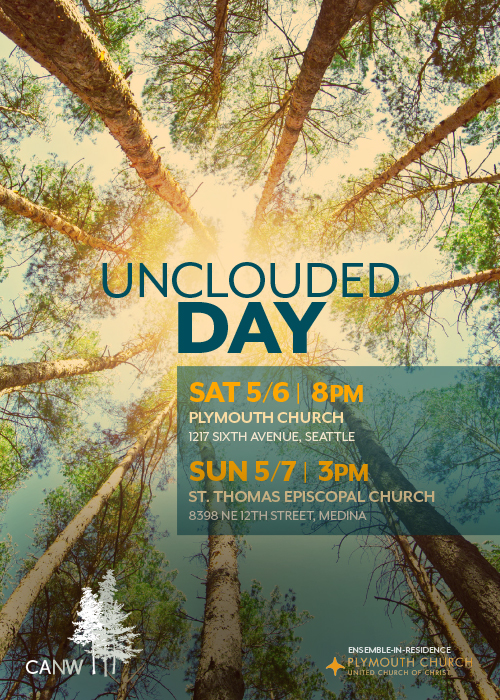 SPECIAL EVENT
In celebration of Plymouth Church's beautiful new C.B. Fisk organ, and our new residency, CANW will reprise it's 2015 collaboration with organist Doug Cleveland to perform Duruflé's beloved masterwork.
This one-time only Sunday matinee performance will also kick off the Herbolsheimer Festival, a year long celebration of the late local composer Bern Herbolsheimer by many of the choirs of Seattle.
LEARN MORE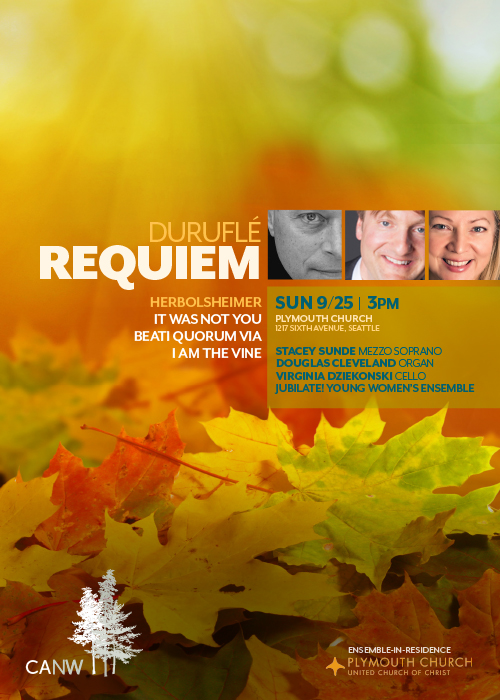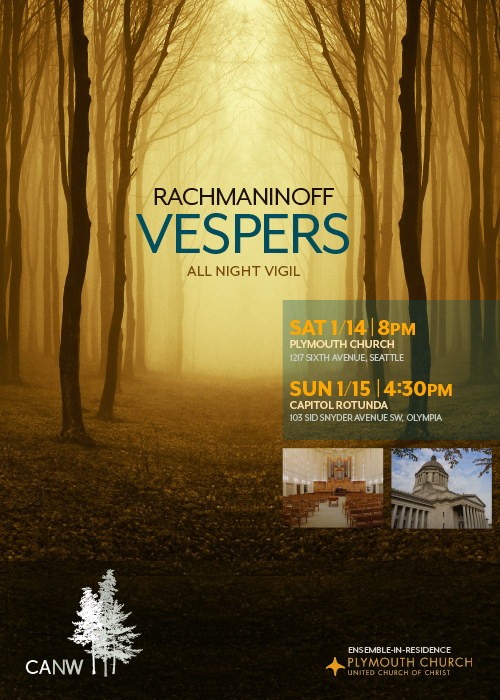 NOTE | THESE CONCERTS RESCHEDULED TO JANUARY DUE TO WEATHER!
Thought by some to be Rachmaninoff's response to the outbreak of World War I, his All Night Vigil – or Vespers – stands as the crowning achievement of the "Golden Age" of Russian Orthodox sacred choral music.
Experience his orchestral treatment of voices in either (or both!) of these remarkable acoustic settings.

The CANW annual tradition of performing a choral contemplation of the holidays with classical guitarist Bob McCaffery-Lent continues! These concerts also feature our first premiere of the season, a new work by local composer and CANW soprano Jessica French.
Get your tickets for either the Saturday night performance at St. Joseph Parish, or Sunday matinee at Plymouth Church, before they sell out!