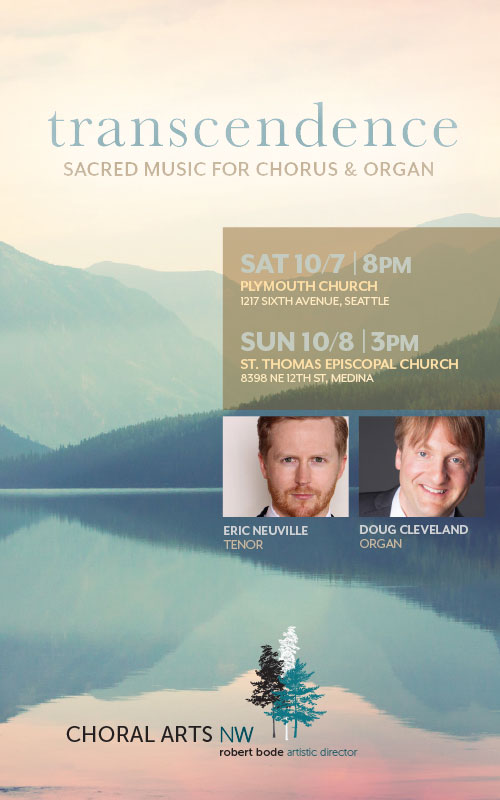 Transcendence: Sacred Music for Chorus and Organ
Our season opener is a program of spiritual music that marries traditional and newer compositional voices. The group will sing music for a cappella choir by Stopford, Vaughan Williams, and Mendelssohn alongside works for chorus and organ (Dove, Britten, and Mendelssohn) and even a piece for chorus and saxophone quartet! By juxtaposing these different styles and sonorities, Artistic Director Robert Bode aims to help the listener experience spiritual music in a variety of ways; perhaps, even, to be surprised into an experience of the Divine. Featuring organist Doug Cleveland, tenor soloist Eric Neuville, trumpet soloist Vincent Green, and the University of Washington Saxophone Quartet led by Michael Brockman.
Christmas with Choral Arts Northwest
Each year, Artistic Director Robert Bode develops a holiday program that is intended to be as much a contemplation of the season as it is a concert: a musical respite from what is usually a very harried time of year. With classical guitarist Bob McCaffery-Lent, Robert weaves a seamless musical meditation that provides the opportunity to close our eyes and embrace with our ears the quiet peace of Christmas.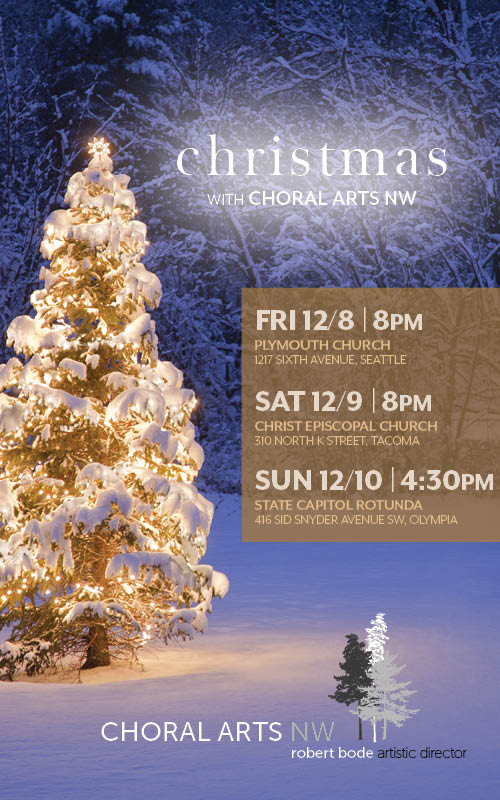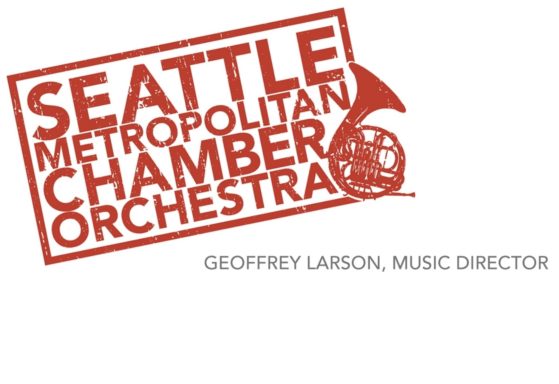 Choral Arts Northwest & Seattle Metropolitan Chamber Orchestra
Journeys of Discovery and Hope
Saturday, January 20th, 8:00pm, Plymouth Church
Gabriela Lena Frank: Leyendas, an Andean Walkabout
Joseph Haydn: Mass for Troubled Times, Hob. XXII/11 "Nelson Mass"
A star cast of soloists joins Seattle Metropolitan Chamber Orchestra for Haydn's Missa in Angustiis, a work that the leading Haydn biographer H. Robbins Landon called "arguably Haydn's greatest single composition." Choral Arts Northwest becomes the first chorus in the Pacific Northwest to collaborate with the acclaimed young orchestra. SMCO also performs Frank's Leyendas, a dazzling work that "mixes elements from the western classical and Andean folk music traditions, drawing inspiration from the idea of mestizaje as envisioned by the Peruvian writer Jose María Arguedas, wherein cultures co-exist without the subjugation of one by the other."
SEATTLE - JANUARY 20TH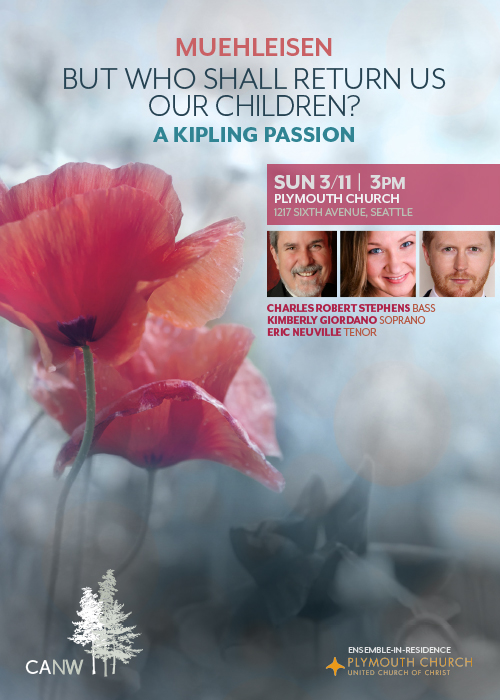 But Who Shall Return Us Our Children: A Kipling Passion
This spring, CANW reprises the revised version of this concert-length oratorio for choir with vocal soloists and chamber orchestra composed by CANW's 2016-17 Composer-in-Residence, John Muehleisen.
This work commemorates the centennial of World War I by focusing on the historical account of Lieutenant John Kipling's 1918 death at the Battle of Loos, and its impact on his famous parents, Rudyard and Carrie Kipling. The narrative touches on a number of issues relevant to our own time, and places special focus on the challenges faced by warriors and their families.
Featuring nationally renowned soloists Charles Robert Stephens (bass) as Rudyard Kipling, Kimberly Giordano (soprano) as his wife Carrie, and Eric Neuville (tenor) as their son John, Muehleisen uses the passion form to explore how we might find healing in the face of unspeakable tragedy. In so doing, the work seeks to honor and bring voice to the often-silent suffering of not only our veterans, but also of their families.
The Moment of Poetry: A festival of Music and Verse
Church hymns, love songs, the lullabies we sing to our children: each of these are artistic expressions inspired by, and based on, poetry. But poetry's impact isn't just limited to the arts. Today, many different individuals and groups are using poetry to aid organizational and community development efforts. To explore the different ways poetry is making itself present in our modern society, we're complementing our usual end of season performances with a day-long series of TED-style talks. Each will showcase how different communities and organizations are using poetry and music to deepen their mission impact, aid healing and improve working relationships.
Join Artistic Director Robert Bode; New York Times best-selling author and 2017-18 CANW poet-in-residence Mark Nepo; and our 2017-18 composer-in-residence Shawn Kirchner for a culminating performance that will integrate these ideas in a world-premiere choral cycle exploring the power of poetry to heal.