COMPOSER-IN-RESIDENCE
As one of the foundational elements of CANW's educational efforts, each season, Artistic Director Robert Bode invites a professional composer to partner with CANW. The collaboration always centers upon each season's Finding Your Voice commission, and often includes additional commissions that support the programming goals of individual concert sets.
Pictured at right are Jake Runestad (our 2015 Composer-in-Residence) and Eric William Barnum (our 2013 Composer-in-Residence) at our May 2015 concerts.
This season, we're thrilled to once again be partnering with composer and friend, John Muehleisen.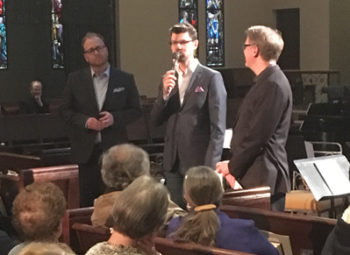 2016-17 COMPOSER-IN-RESIDENCE
John Muehleisen
Composer John Muehleisen's music has been described as "imaginatively harmonized…beautifully realized…and brilliantly crafted…all of this characterizes the masterful writing of composer John Muehleisen." He has been Composer-in-Residence for Seattle's Opus 7 Vocal Ensemble almost continuously since 1996, as well as for the Dale Warland Singers (2003–2004) and Seattle's Choral Arts Northwest (2011-2012 and 2016–2017), which commissioned the oratorio Pietà, premiered in March 2012 to instant critical acclaim. Pietà was chosen by Craig Hella Johnson to open Conspirare's week-long ComPassion festival in June 2014, and the work received its East Coast premiere in March 2015 by Schola Cantorum on Hudson, conducted by Deborah Simpkin King. In Spring 2016, Pietà was performed the choirs of St. Olaf College and Magnum Chorum, conducted by renowned conductor Anton Armstrong and broadcast via live streaming video. His recent Harvard Glee Club commission, The Field—commemorating the sesquicentennial of the Civil War— received multiple standing ovations during the Glee Club's Spring 2015 Tour of the American South.
John's works have been performed throughout North America, Europe, and Asia by groups including Ansan City Choir, Choral Chameleon, Incheon City Chorale, the John Alexander Singers, and Yale Schola Cantorum. He has received commissions from Conspirare, The Esoterics, Northwest Girlchoir, Seattle Girls' Choir, Seattle Pro Musica, South Bend Chamber Singers, and Volti. More than 40 of his choral works have been recorded commercially, and his compositions have been featured at the Sixth World Choral Symposium; the 2007 NEA American Masterpieces Choral Festival in Austin, TX; multiple ACDA conferences, and the 2013 Chorus America Conference.
Prizes and awards include the 2014 Dale Warland Singers Commission Award (with Dolce Canto, conducted by Peter Park), Third Place in the 2013 American Prize in Professional Choral Composition, and the 1988 Louisville Orchestra Orchestral Composition Competition Award. John has studied in university and master classes with famed American composers Milton Babbitt, William Bergsma, Earle Brown, John Eaton, Donald Erb, Lukas Foss, Eugene O'Brien, Bernard Rands, William O. Smith, Harvey Sollberger, and Yehudi Wyner. His choral works are published by Colla Voce, Santa Barbara Music Publishing, and Alliance Music Publications; most of his works are self-published and available from Muehleisen Music at www.johnmuehleisen.com.