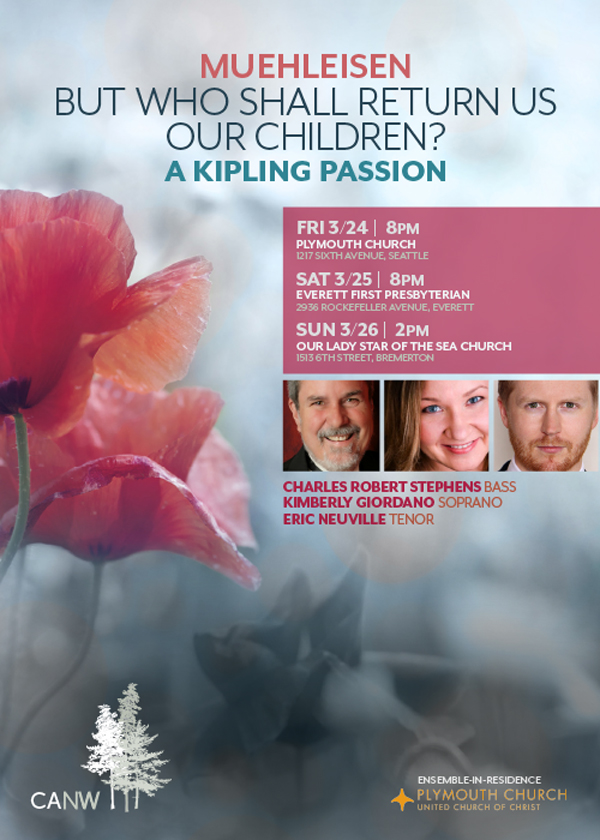 A Kipling Passion

| | |
| --- | --- |
| | March 26, 2017 |
| | 2:00 pm |
| | BREMERTON |
| | Our Lady Star of the Sea |
| | Google Map |
Tickets
TICKETS: $28 Regular Admission | $24 Senior/Military
In 2017 more than three years of work will culminate in the premiere of a concert-length oratorio for choir with vocal soloists and chamber orchestra composed by CANW's 2016-17 Composer-in-Residence, John Muehleisen.
But Who Shall Return Us Our Children: A Kipling Passion commemorates the centennial of World War I by focusing on the historical account of Lieutenant John Kipling's 1918 death at the Battle of Loos, and its impact on his famous parents, Rudyard and Carrie Kipling, whose story represents that of countless families during World War I—and in all wars before or since. The narrative touches on a number of issues relevant to our own time, and places special focus on the challenges faced by warriors and their families.
Featuring nationally renowned soloists Charles Robert Stephens (bass) as Rudyard Kipling, Kim Giordano (soprano) as his wife Carrie, and Eric Neuville (tenor) as their son John, Muehleisen uses the passion form to explore how we might find healing in the face of unspeakable tragedy. In so doing, the work seeks to honor and bring voice to the often-silent suffering of not only our veterans, but also of their families.