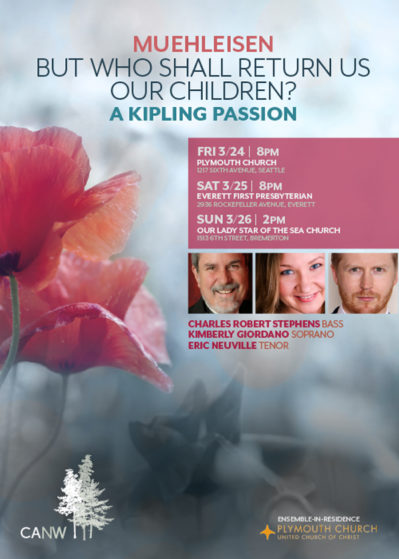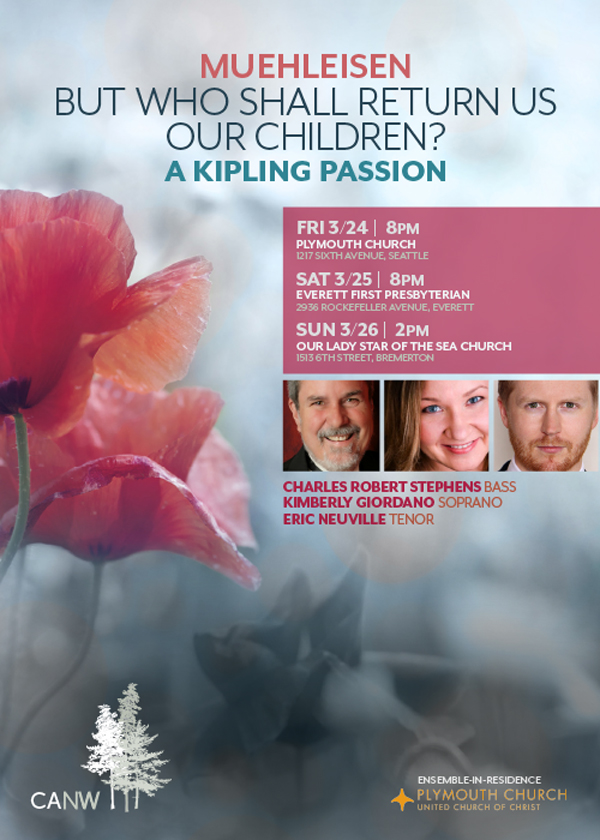 A Kipling Passion
"Incidentally, Armageddon begins."
Thus wrote Rudyard Kipling when Britain entered the First World War began in August 1914. It is impossible to understate the effect that the War had on Britain. Over three-quarters of a million British died, largely in the trenches of Belgium and France. This accounted for fully 2% of the entire population of Great Britain. Nearly three times as many were wounded, many severely, including from amputations and shellshock—what we now call post-traumatic stress disorder. So many promising young men were slaughtered, and so many of the old regime were now dying or disillusioned. The course of British music, literature, and culture changed dramatically. Kipling demonstrates this shift aptly: he was very much of the old guard, and the death of his son at the Battle of Loos in September 1915 destroyed his world.
The tale of Kipling and his family's wartime woes inspired Seattle-based composer John Muehleisen while researching his Pietà, premiered by Choral Arts Northwest in March 2012. Pietà included texts from various sources on the subject of mothers mourning their children; among the texts were writings of Kipling and his son, John. Yet after that premiere, Muehleisen and Robert Bode, Artistic Director of Choral Arts Northwest, knew that they were not done with Kipling yet. As early as January 2013, the composer began collecting source material for a much larger work dealing with the Kipling family and their private tragedy. Bode and Choral Arts Northwest commissioned the result: tonight's work, But Who Shall Return Us Our Children?.
By subtitling his oratorio "A Kipling Passion", Muehleisen invites comparisons to Bach, whose eighteenth-century Passion music—recounting the final days and death of Jesus—remains the gold standard for large-scale choral writing. Muehleisen implicitly likens the suffering of Christ to that of fallen soldiers everywhere, a notion that Kipling himself had embraced. As with the Bach Passions, the three principal soloists take on roles of specific characters: the father, Rudyard, bass-baritone; mother, Carrie, soprano; and son, John, tenor. Some choral singers emerge with smaller roles, including quartets of soldiers and nurses. The full choir often takes the role of Bach's Evangelist, or of a Greek chorus, introducing the action with textual attributions or otherwise moving the story forward. There are also moments of turba chorus, when the choir interjects briefly in the role of a crowd. In Bach, the chorus may become an angry mob; in Muehleisen, a disillusioned English populace. Most commonly, the chorus functions as an everyman: observing, commenting, and deeply feeling.
The instrumentation also hearkens to Bach, though modernized. The small orchestra consists of two woodwind players (one on flute, clarinet, and saxophone; the other on oboe and English horn), two brass players (trumpet and trombone), two percussionists, and a standard string quartet plus double bass. The percussion acts akin to a Baroque continuo, supporting the voices in narrative moments. Muehleisen largely associates the strings with Carrie, the military band of winds and percussion with Rudyard, and the full ensemble with John, as a merging of his parents' orchestras. In two instances—the openings of Part 3 and Part 4—Muehleisen handles the instruments in a singularly Bach-like manner: these are arias for solo voice, two solo winds, and the percussion continuo. Similarly, Carrie's aria "Son", her farewell to John as he heads off to war, is scored essentially for solo oboe and strings, in a modified da capo form. Even the oratorio's macro organization nods to Bach: sixty individual numbers grouped into seven main sections.
Those sixty numbers use texts from many different sources, most of which are contemporary to the action of the story. Of course the poetry of Kipling is given center stage, including three of his most famous works: If—, his advice to a young man entering adulthood, written two years before John's birth; Recessional, written for Queen Victoria's Diamond Jubilee; and selections from Epitaphs of the War. Muehleisen presents Kipling's writings in a roughly chronological order; we hear their evolution from -simplistic optimism to vehement propaganda to bitter objectivity. Other English poets of the era appear: F.S. Flint, Robert Service, Wilfrid Wilson Gibson, Wilfred Owen, Siegfried Sassoon, Sybil Bristowe, Robert Nichols, Patrick MacGill, Eva Dobell, Vera Brittain, Thomas Hardy, Charles Hamilton Sorley, Edith Cavell, John Maxwell Edmonds, Laurence Binyon. Less literary sources include diaries and letters written by Carrie, Rudyard, and John. There are news reports, a telegram, soldiers' songs, a music-hall song, and even a song from the U.S. Civil War. The lullaby that accompanies John's birth was written by Tyler Griffin, a friend of the composer. In the final section on universal reconciliation, Muehleisen adds historical breadth with texts from the Bible, Blake, Rossetti, and Sandburg.
Muehleisen's music benefits from several sources as well. At different moments he consciously imitates Anglican chant, Baroque recitative, Elgarian grand melody, and English folksong. He adapts Bach chorale harmonizations, largely from the Passions, and assigns them to new words, such as a poem by Wilfred Owen. Abide with me and other hymn tunes appear; during the War, the soldiers' song When this lousy war is over was often grafted onto the tune of What a friend we have in Jesus, a chilling juxtaposition that Muehleisen retains. And there are military bugle calls, an English church-bell pattern, a traditional German song of lamentation, a Christmas carol, a funeral march from Handel's oratorio Saul, and even Auld Lang Syne. All of these influences comprise more than a mélange, however, for they serve specific dramatic purposes.
One of the ways Muehleisen links these disparate influences is by a rich collection of original musical motives. For example, one bass ostinato first heard in "Lullaby for John" is later expanded to symbolize the corruption of innocence. The music for If— returns periodically to put the listener in mind of John at subtle, key moments. With John's birth we first hear a motive for loss and farewell. This returns at various prominent moments, including John's adieu to his mother: simultaneously a farewell for John and a loss for Carrie. Another motive represents war. Instrumental elements heard during John's final letter home return at his death. At every moment Muehleisen deftly balances original music with overt influences.
The music begins with a military call to attention and a procession. The text is Kipling's Recessional, indicative of the fading away of the British Empire, written two months before John's birth in 1897. The soloists are introduced not as their characters, but with lines that reveal their characters' eventual plights. Muehleisen's music here adapts the English hymn tune "Folkingham", with which the poem became affiliated in the English Hymnal of 1906. The crucial line is "Lest we forget"; the concept of remembrance is key.
In Part One, we hear a glimpse of life in the Kipling household in the 1890s. John is born. Rudyard's If— introduces a persistent, ominous drumbeat that will reappear. Part Two, "The Gathering Storm", leaps us to 1914. War is declared, Rudyard writes jingoistic propaganda and riles the choir—that is, the English people—to a nationalistic frenzy. He helps John to gain a military commission, but wonders of the eventual cost of lost lives: "Who dies if England live?". Supported by strings and chimes, Carrie worries about her soldier-son: "We all must […] live in the shadow of a hope that our boy will be the one to escape." The heart of Muehleisen's storm is the dramatic, dissonant choral lament, "The Young Men of the World", a violent treatment of the "war" motive, which has steadily infected the entire score. Carrie tenderly bids John farewell.
And so we proceed to the front. In "The Battle of Loos" (pronounced in English like "loss"), Muehleisen first bluntly tells us the eventual outcome, then guides us there steadily, inexorably. In a series of diversely scored numbers, soldiers sing of optimism, nostalgia, bravery, and hope. A quartet flippantly jokes about being bombed, gassed, and shelled in the trenches. At each step, Muehleisen's chosen texts and his music gain richer depths. An orchestral churn depicts the soldiers' nervousness and anticipation, and time is suspended for John's inner monologue. Finally the battalion leaps "over the top" of the trench to attack. John is killed almost instantly, amid crashing percussion. Matters turn more introspective, beginning with compassionate consideration of the shellshocked, who, then as now, often suicided. The chorus delivers to the Kiplings a telegram stating that John is "missing, presumed injured" in a cold, bureaucratic, dot-dot-dash recitative. Carrie, Rudyard, a quartet of soldiers, and the full chorus, representing the disgruntled populace, express disgust at incompetent military leadership.
After the intermission, Carrie and Rudyard struggle to discover if John was missing, captured, or in fact killed. A sequence of letters and diary entries fills the passage of two years. Kipling's poem A Nativity is given its historical context: Jesus' mother held his crucified corpse, but Carrie and Rudyard are stuck between despair and hope. A solo baritone finally delivers the detailed truth, not sung, but with the harsher tones of speech. Amid Carrie's reaction, the choir paints the scene. Rudyard continues with Christian allegory in the poem Gethsemane. Muehleisen assigns this to a well-known tune, just as Kipling was wont to do, and also musically resurrects John to paraphrase Jesus' words: "I prayed my cup would pass." The couple's healing begins.
Part 5, "Armistice and Aftermath", focuses on the survivors' struggles. The war ends amid the clanging of church bells, represented by chimes and vibraphone. Carrie's diary makes it clear, however, that the end of the war is not the end of the story. Amid a Handel march traditionally played at British military funerals, John's regiment returns home, many physically or mentally maimed. A trio of nurses sings with optimistic naivety of those suffering from shellshock. Rudyard delivers a speech—spoken, not sung—to draw attention to returned soldiers with forgotten but enduring pains. The choir sings what the composer calls "a carefree, sardonic waltz", "signifying the too-often cavalier attitude of society to the challenges of returning veterans." We find that questions have pervaded the "Aftermath" poems: "Does it matter?"—"But who shall return us our children?"—"The Spirit of Pity whispered, 'Why?'". All questions cease for Carrie and Rudyard, as John is officially, finally, pronounced dead.
The final task is reconciliation: the living accept the dead… soldiers and nurses embrace former foes… survivors acknowledge each other's grief. A musical reconciliation transpires during Binyon's "Ode of Remembrance", as the motive that has heretofore been associated with loss transforms into that for remembrance. Muehleisen's inclusion of Carl Sandburg's Grass adds universality and timelessness to the discussion: we could be discussing any war in history. The texts of the final number are typical of those that Kipling penned or chose for gravestones in his capacity as a member of the War Graves Commission. The pervading notion is aloneness: John is alone, then Rudyard and Carrie are alone, separated in canon. Bit by bit, the chorus, divided into five groups, emerges, symbolizing a growing community of support. Textual and musical fragments interweave richly in this final "Remembrance Tapestry".
We are fortunate that Muehleisen was not done with the Kiplings. There is so much to learn from such stories of the past. The process is painful for us, but it was far more painful for those who first trod these paths. Let us remember the fallen. Let us remember the injured and the impaired. Let us remember the family, the friends, the lovers, the neighbors. Let us remember all.